A Basic Guide to Saltwater Fly Fishing in Southwest Florida
©1996
By Don Phillips
Chapter 1 - Introduction



The purpose of this series of articles is to introduce the reader to the sport of saltwater fly fishing, as currently practiced here in Southwest Florida. The content is aimed primarily at novice fishermen, at experienced saltwater fishermen who have not yet succumbed to the joys of fly fishing, and at freshwater fly fishermen who would like to transfer their acquired skills to our resident saltwater fish. I'll attempt to take some of the mystique out of fly fishing by describing the waters we fish, the tackle with which we fish and the basic techniques that we use to fool our formidable prey. Accordingly, this is sort of a beginner's school, hopefully giving you enough information to go out and buy the basic required equipment and to begin to develop your fly fishing skills. I've been fly fishing for over 45 years, and yet I'm still learning new things all the time. Much of this continuing learning comes from the stream of books and magazines that are being published. If you want to improve your success on the water, subscribe to a few of these magazines and read some of these books; There's literally "gold in them thar hills". Speaking of learning, I must give particular credit for this writing to my close friend and mentor, Doug Swisher. I've learned more from Doug over the years than I could ever absorb from the literature.


Although the earliest historical records show that fly fishing was practiced as early as the third century AD in Macedonia, the basis for most of our heritage came from England. Particularly noteworthy was Dame Juliana Berner's "Treatyse of Fysshing Wyth an Angle" (1496) and Isaak Walton's famous "The Compleat Angler" (1653). A century later, North American fly fishing began to take hold and by 1900 it had become fairly popular. Saltwater fly fishing seems to have started in the mid-1800's and James Henshall's book "Camping and Cruising in Florida" (1878), was the first to document fly fishing for Jack Crevalle, Snook, Redfish, Ladyfish, Bluefish and Tarpon. Over the past 20 years, local pioneers like Jim Grace, Jim Hopkins, Bob Marvin and Doug Swisher have laid the foundation for today's excellent fly fishing in Southwest Florida. When I first moved to Marco Island in 1989, I would never see anybody fly fishing in the backwaters, and flats boats were an oddity. Now, less than a decade later, fly fishing is enjoying a tremendous boom in popularity. The tackle shops are bursting with fly fishing gear and our local fly fishing club has grown from 12 charter members in 1993 to over 100 at present!



Originally, the "business" end of a fly fishing outfit consisted of a hook, suitably dressed with animal fur and feathers to imitate aquatic insects such as mayflies, caddisflies, stoneflies, etc. Nowadays, our "flies" also imitate terrestrial insects, baitfish, crustaceans etc and are constructed from all kinds of natural as well as man-made materials. Sometimes, flies are lightly weighted in order to make sure that they sink down to the depth of the targeted fish, but generally, flies are very light and as such cannot be "cast" or thrown with conventional spinning or casting equipment. Fly fishing is thus differentiated from other types of fishing in that the fly rod actually casts a relatively heavy line, which in turn pulls the fly out to its destination. Twenty to thirty feet of fly line extended beyond the tip of the rod weighs as much if not more than most spinning lures and because this weight is distributed along its extended length, fly rod design and fly casting technique are quite different than their spinning counterparts. And so, fly fishing differs from other fishing forms in two distinct ways: 1) the lure is very light and is not (and never was) alive and 2) the lure is cast to its destination via a weighted line.


Why do we fly fish? That's a difficult question to answer. Each fly fisher probably has his or her own set of reasons, but let me try to answer from my perspective. First of all, I fish because I love the outdoors, the water and all that nature's cornucopia has to offer. In addition, if I can also be skillful, determined, patient and lucky enough to hook and land a fish in his natural environment, I'm doubly rewarded. I find fly fishing to be more enjoyable than other techniques, because I don't have to be burdened with bait and buckets, nor pounds of spinning lures. Hundreds of different kinds of flies can be carried in two or three boxes, to cover nearly all of your fishing needs. In shallow waters, where I do nearly all of my fishing, the fly can be cast where you want it with a minimum disturbance when it hits the water. Heavier lures scare nearby fish when they hit the water and make them nervous for future casts.

Fishing with flies often leads one to fly tying, which I find almost as much fun as fishing. And with fly tying you have the ability to be quite creative in your attempts at imitating the various prey of fish. Fishing with a fly also keeps your mind awake.The fly is always moving and you must pay attention to what you're doing during casting and retrieval, to place the fly where you want it and to manipulate it so that its components behave like a tail, fins, claws or whatever. Finally, fly fishing makes it easier to remove the hook from a caught fish, compared to spin or bait fishing. Fly-caught fish are usually hooked in or near the mouth whereas fish will often swallow bait on a hook, mortally wounding it during removal. The treble hooks of spinning lures can be similarly damaging if you wish to release the fish unharmed.



Of course, there's nothing that's more productive in catching fish than using live bait! And if the wind is really blowing, casting a lure with a spinning rod will often get to the better places with ease. Nevertheless, I prefer fly fishing above all other forms of angling, and once it gets in your blood you're literally hooked for life!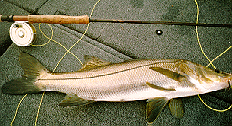 Next Article - Our Saltwater Game Fish
Table of Contents