Marco Island, Florida
Fishing - Marco Island, the Everglades and 10,000 Islands Florida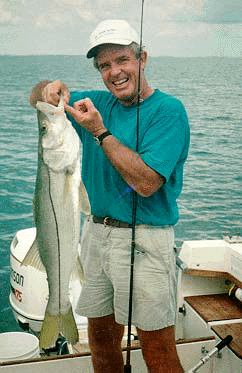 Featured Photo - Capt. Bill Walsh - Dawn Patrol Charters
---
Come on in, the water's fine -- for fishing! Yes, the temperate waters of the Gulf of Mexico provide a good year-round environment for a large number of catchable fish species. Check out the map of the 10,000 Islands area and note that Marco Island is the northern gateway to this pristine coastal wilderness. Whether your preference is fishing offshore over the wrecks or stalking lunkers in the backwaters, there's plenty of room for fishing in solitude.
Marco Island and the 10,000 Islands have many experienced guides to help you catch that trophy. But if you want to explore on your own, there also are plenty of marinas and tackle shops for boat rentals, tackle and advice. And, if you would prefer, there are places where you can fish without a boat. Some of the more popular spots are near the two bridges connecting Marco Island with the mainland. Many people also fish the myriad canals which criss-cross Marco Island, especially where and when the tidal currents are relatively strong. The beaches can also be productive, especially at dawn and at dusk. Whether your preferred technique is fly, spin, plug or bait, you will enjoy fine fishing in a great environment.
Featured Fishing Report
Capt. Bill Walsh - Dawn Patrol Charters - January 2007
JANUARY FEELS MORE LIKE SPRING HERE
It's supposed to be chilly here in January....However it's not. The water temperature is hovering around 70 degrees which is 10 degrees warmer than usual. That has made several things happen. The big sheepshead that invade every winter to spawn have not yet shown up- too warm for them. And the pelagic fish like mackerel, bluefish, bonito etc have hung around to enjoy the warmer weather and water. So in the backwaters our winter fishing this year is producing mackerel, pompano, redfish, snook (still active in warmer water), black drum and small sheepshead. On the nearshore reefs we are seeing tons of bait that are holding mackerel, bonito and bluefish in the top water and snapper, triggerfish and grouper (smaller) on the bottom. There are some keeper gag grouper but not many. On the beaches they are getting whiting and silver trout on sand bottom. All in all, a different fishery than usual but lots of fun.